Seasoned Business Leaders Join Lifespace Communities' Board of Directors
January 29, 2018
Lifespace Communities announces the appointment of Venita E. Fields, partner at Pelham S2K Managers LLC, and Joyce Hrinya, founder and managing partner at A&R Strategy Partners, to its board of directors. The two veteran business leaders bring extensive business knowledge and expertise to the organization.
"As an organization looking to advance our mission, the skill sets of Venita and Joyce align nicely with our strategic direction," said Sloan Bentley, Lifespace president and CEO. "Their passion for seniors is evident, and their experience adds to our already diverse group of board members."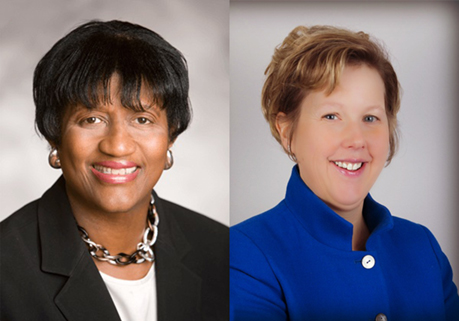 Venita Fields (left) and Joyce Hrinya (right) join the Lifespace Board of Directors
Fields brings 35 years of experience in the financial services industry to the Lifespace Board. At Pelham S2K, an Alternative Investment Fund, she provides capital and private equity investments in privately held companies and oversees the organization's Chicago area offices. Fields is also the board president of the Chicago Chapter of the Association for Corporate Growth (ACG).
Hrinya has 30 years of general management, marketing, strategic planning and business development experience at organizations ranging from large public corporations to small start-ups. During that time, she has overseen all marketing and customer satisfaction initiatives for Helzberg Diamonds, a 240-store specialty retailer, and spearheaded branding projects for Modere and The Carillon Hotel and Spa in Miami, Fla. As a managing partner at A&R, a consumer growth strategy firm, she helps owners, boards and executives of small to mid-size consumer businesses advance their brand strategies. Some of her notable clients include See's Candies and Fechheimer, both subsidiaries of Berkshire Hathaway.
Both members credit Lifespace's mission and dedication to seniors for sparking their interest in the position.
"Through serving on the Lifespace Board of Directors I have a unique opportunity to provide strategies that can have a meaningful impact to the lives of seniors," noted Hrinya. "There are few things that are as consequential as the decisions about care and living arrangements for older adults. I look forward to working with Lifespace in its commitment to excellence and innovation within senior living."
Fields echoed her sentiment, stating, "Maintaining and improving the quality of people's lives, regardless of age, is a worthy mission. This is especially true for seniors, who have contributed and continue to contribute so much to our society."
During her storied career, Fields has structured, closed and managed approximately $2 billion in investments in the automotive, aviation, environmental, food, industrial manufacturing, retail and service sectors.  Her investment record earned her national recognition as one of Mergers & Acquisition Magazine's Most Influential Women in Mid-Market M & A.
"I've assessed the skills and competence of dozens of management teams across a multitude of industries and I am impressed with the Lifespace leadership team and their vision for the future," added Fields. "I'm eager to work with them as they continue to provide top tier service to seniors."
Fields received her bachelor's degree in history from Northwestern University and her masters of management degree from the J.L. Kellogg Graduate School of Management. Hrinya holds a bachelor's degree in finance from Penn State and a master's degree in business administration (MBA) from the Harvard Business School.
<< Back to News