Lifespace Changes the Face of Leadership
November 9, 2016
When six of the 10 members of your senior leadership team are women, including the CEO, you know "there's been a change in the glass ceiling."
That's Jodi Bleier's take on Lifespace Communities' innovative female leadership. "If anyone was going to do that, it was going to be Sloan," says Bleier, vice president of financial operations and strategic growth, referring to the company's first female CEO, Sloan Bentley, who took the helm in 2014.
"Sloan's very smart and driven. She's also someone who is very caring and supportive. She doesn't just set herself up as a role model," Bleier says. "She provides opportunities in the workplace and shows you where hard work, determination, and passion will take you."
In a little over two years, Bentley has put together a seasoned team, over half of which is female – a feat that is unique in the senior living profession, where, historically, men have led large organizations.
Katie Smith Sloan, the first female CEO of LeadingAge, a national association of aging services organizations, sees this kind of change beginning on a national scale and recognizes its impact.
"Leadership in our field is changing dramatically. It is younger and more diverse in many ways, including more female leaders," she says. "And I believe it will continue to change."
Creating a New Culture
Gender diversity often translates into a new approach to leadership. According to Smith Sloan, women create a different context around leadership. "Research indicates they are holistic, inclusive and consultative – all elements that add to the success of organizations and contribute to a healthy culture," she says.
Ann Walsh agrees. Lifespace's senior vice president of operations, Walsh recognizes how organizational dynamics change as female leaders exercise their particular gifts.
In the field of senior living, she says, "No one will be successful unless they provide caring and compassion to our residents." Yet the profession often asks women to set aside these traits when they move into management. Bentley, Walsh says, shows another way by combining compassion with other characteristics traditionally associated with strong business leaders, such as being a tough negotiator.
Creating a culture that values women's unique contributions requires making other changes, says Walsh, who joined Lifespace last spring with 25 years of experience in the field. Flexible work schedules are one example.
Blaire Goldstein, executive director of Lifespace's Chicago-area community Beacon Hill, appreciates the flexibility.
"It's a hard job, but there's respect for time off. I'm a working mother of two very small kids with a spouse who is also working full time," she says. "Lifespace allows for a strong work and family life balance. That's a really important part of a healthy work environment for me."
Having been with Lifespace for over 11 years, Goldstein knows that senior living has been male-dominated in the past. But clearly, Lifespace isn't stuck in that past. "Women here have the ability to rise and lead," Goldstein says.
That dynamic of change and possibility seems to be built into Lifespace, an organization that Walsh deems "paradoxical."
"It's 40 years old, but it's new," she says. "'Transform' has been our word since I got here."
Improving Engagement
An organization's ability to transform itself and tap into the unique skills of women is crucial. According to the Gallup Organization's recent report "Women in America: Work and a Life Well-Lived," the number of women of "prime age" – between 25 and 54 – who are active in the workforce reached its peak in 1999 and has been falling ever since.
The falling rate should alarm U.S. employers, according to Gallup, because women consistently rank higher than men in engagement, a measure of enthusiasm and commitment in the workplace, which is tied to key performance measures such as absenteeism, worker turnover rates, productivity and profit. Gallup sees the female advantage carry over into management as well.
At Lifespace, Walsh is living this reality as both a team member and a manager. She celebrates her role and freedom as an operations changemaker hired to discern the Lifespace "way" from the wisdom of the organization's 12 communities.
"This is a great adventure, a challenge, and an awesome opportunity for me," she says. "Many things haven't been defined yet as we create this home office culture and a brand of operating communities for now and into the future for our next 40 years."
Transformation and innovation are made possible in part for Lifespace's female employees by the kind of models they have in their colleagues and the atmosphere of trust that has grown up around them.
Gallup's findings about employee engagement demonstrate the importance of this kind of potential-cultivating work culture. The survey on employee engagement showed that the greatest difference between female and male managers could be found in items related to development. According to Gallup, "This finding suggests that female managers surpass their male counterparts in cultivating potential in others and in helping to define a bright future for their employees."
Bleier traces that kind of culture at Lifespace. "There's no substitute for actually having a female leader we can look up to," she says. "And every team member is valued at Lifespace. It's not just because your gender, race, background, experiences or religious affiliation. You're a person, a very valuable team member, and you'll have the same opportunities as everyone else. Everyone is valued, not regardless of their background, but because of it."
Tapping Strengths
In human services, bringing one's whole self to the service of others is key. Perhaps that's why women are shining when given the chance at Lifespace.
Lisa Henning, executive director at Lifespace's Grand Lodge at the Preserve in Lincoln, Nebraska, says empathy, understanding and relatability are key to making a positive difference in the senior living profession.
"Maybe women are a little more open in those ways and ready to connect out of their experiences," Henning says. "For me, it all grew out of a passion I had for helping seniors."
Henning first discovered this passion as an administrative assistant for a senior volunteer program at a local hospital. Her excitement was obvious to friends who suggested Henning apply for a director position at their parents' senior living community.
"I applied and was hired with no experience," she says. "When I asked why, the hiring team told me, 'We can teach operations. We can't teach someone how to be a people person and love seniors.'"
Henning explains, "I understand what they're going through. I see our residents like they're my parents and grandparents." That personal connection continues to shape Henning's work with Grand Lodge's residents and frames her story about a couple who didn't have any children to help care for them as they aged.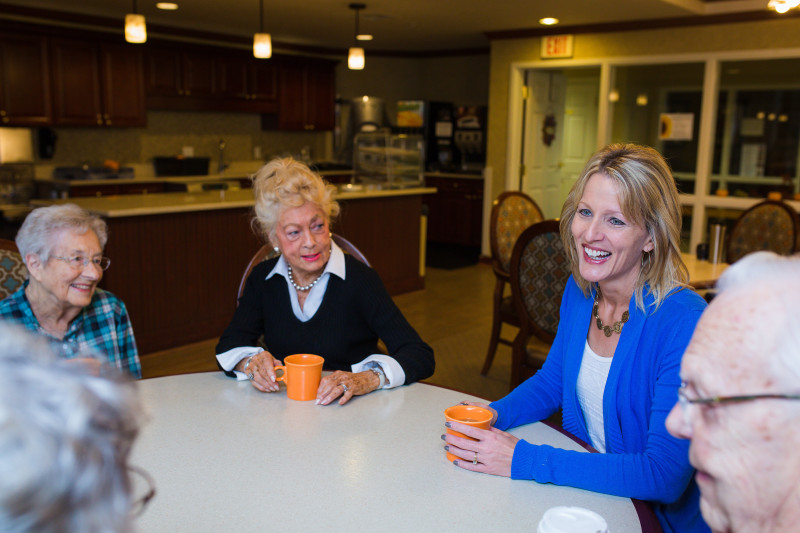 "The gentleman was very hard of hearing and had very poor vision," Henning says. "His wife had been his eyes and ears." When the woman suffered a massive stroke and moved to a nearby hospice community nearby, Henning stepped in.
"I became his eyes and ears," she says. "My role wasn't as the executive director of Grand Lodge. My role was to be a friend who could provide the empathy and care I would hope a family member of mine would receive."
Henning and the other women in leadership at Lifespace were hired for the experiences, expertise, and abilities they bring as professionals and leaders in the field of senior living. The particular gifts and skill sets that they bring as women are a welcome addition and benefit, one that is changing the glass ceiling as well as how life unfolds on the ground at Lifespace. And the culture Lifespace's women leaders create has a tendency to ripple out.
"Female leadership here opens doors," Henning says. "It makes people step back and take a look at what we can provide to our residents."
(In the cover photo: Jodi Bleier, Lifespace vice president of financial operations and strategic growth)
(In the inset photo: From left to right: Marian Nuernberger, Phyllis Acklie, Lisa Henning, Ken Brockman)
<< Back to News