Celebrating Community and Team Member Excellence: Part I
April 16, 2018
Every year, Lifespace Communities formally recognizes team members and communities that exceed expectations through hard work and service excellence. Recently, the organization honored the 2017 Salesperson of the Year, the Team Member Giving recipient and the Spotlight Story of the Year.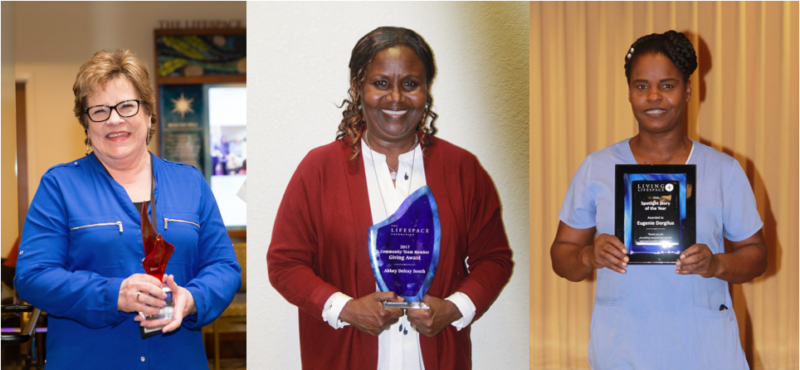 "We are fortunate to have team members who go above and beyond to ensure the well-being of our residents" said Sloan Bentley, Lifespace president and CEO. "These annual awards are our way of giving thanks for their contributions. Through their dedication, we are able to honor our core mission of celebrating the lives of seniors."
Cherie Lovelady of Beacon Hill is the recipient of the 2017 Salesperson of the Year award. This is the 11th consecutive year Cherie has earned the accolade, which is presented to the team member with the highest sales across all 12 Lifespace communities. Cherie credits her extraordinary run to her passion for seniors and the strong support system at Beacon Hill.
"I absolutely love what I do, and I think that is evident in my work," explained Cherie. "We have a pretty great team at our community, and I could not have achieved this without everyone's commitment to success."
Beacon Hill resident Gloria Casper, who serves on the community's marketing committee, applauded Cherie's kindness and outstanding ability to connect with seniors. Gloria describes herself as very fortunate to have had Cherie 's assistance during her move to the community five years ago.
"Cherie is people first and sales second," noted Gloria. "She never stops being the wonderful person that she is, and her courtesy and hospitality continues on way after your move. Her door is always open and she is always willing to lend a helping hand whenever possible."
For the second consecutive year, Abbey Delray South earned the Team Member Giving Award for having the highest number of voluntary team member pledges to The Lifespace Foundation. Paula Calixte, assistant director of nursing at the community, played a crucial role in achieving this milestone. A staunch advocate of giving back to those in need, Paula eagerly encouraged her 90-person team to make pledges whenever possible. An astounding 98 percent of them did just that.
"We all receive help from other people at one point or another, so it is important to give back," said Paula. "I tell my team that it does not matter how much you give as long as it comes from your heart. Some people give 50 cents, and some people give more. It all makes a difference."
In the Spotlight
The 2017 Spotlight Story Award is presented to a Lifespace team member who exemplifies the organization's commitment to quality service. Eugenie Dorgilus, a nursing assistant at Abbey Delray South, earned the award through an exceptional act of generosity while caring for a short-term rehab resident. The resident, who was distraught because of his wife's unrelated illness, had only packed a single outfit for the duration of his stay at the community. Eugenie donated a dozen articles of clothing on her own accord to elevate his comfort while he received care.
Eugenie, who is still shocked about receiving the award, said, "Helping seniors means the world to me, and I was so happy to put a smile on his face. I did not know that I was going to be recognized, but it makes me feel really good."
The award came as no surprise to resident Betty Albanese of Abbey Delray South. Through shared laughter, Betty has developed a special bond with Eugenie during the past couple of years.
"Eugenie just brightens up the room," said Betty. "She has a great sense of humor, which lifts all our spirits. I can't think of anyone who deserves this more."
NOTE: Part II of this story will be featured in May issue and profile recipients of Clinical Excellence, Bright Idea of the Year, Operational Excellence, and Sales Team of the Year awards.
[In the photo from left to right: Cherie Lovelady, Beacon Hill – 2017 Salesperson of the Year, Paula Calixte, Abbey Delray South – 2017 Community Team Member Giving Award, Eugenie Dorgilus, Abbey Delray South – 2017 Spotlight Story Award.]
<< Back to News