Technology Flows at Lifespace
October 26, 2016
As a child in Detroit in the early 1920s, Jay Cawley can remember the excitement behind a new technology called radio.
Now Cawley holds weekly workshops on the Apple iPad for his fellow residents at Grand Lodge at the Preserve, a Lifespace community in Lincoln, Nebraska.
"I try to keep them up to date with the latest operating system, how they can use it, the features it entails," Cawley says.
He now does his banking and shopping on his computer, even using it to order hearing aid batteries.
Increasingly, residents are embracing technology, Cawley says.
"A lot of people just want to do email," he says. "There's another segment that does their banking on the computer. Very few do Skype and Facetime, which is really the way to go if you want to keep in touch with your children and grandchildren all over the country and the world."
Lifespace understands the growing importance of technology for business operations, resident life and their guests. That's why the organization is upgrading its infrastructure to better meet the challenge, says John Couture, vice president of information technology.
"The goal of this is to free up the IT team to focus more on strategy," Couture says. "There are many new technologies on the horizon that will help improve the lives of our residents including fall prevention, medication management and the 'connected' apartment."
Across the nation, senior living communities are shifting their efforts more toward improving their technology offerings to meet the expectations of residents and their families. Meanwhile technology also promises to improve the quality of health care delivery in senior communities.
But taking full advantage of new technology first requires a solid and secure foundation, which Lifespace is building, Couture says. For example, Lifespace has improved its network bandwidth to improve speed and connectivity between the communities, the home office and the internet. This has greatly improved response time for application and internet access in the communities.
Mitigating security risk for Lifespace is one of the most immediate priorities, Couture says. Additionally, in a move to increase efficiency and effectiveness, information technology administrators who once reported to their Lifespace community now report directly to Couture.
"I now have the ability to leverage resources across multiple communities," Couture says.
Lifespace is installing a new telephone system that leverages voice-over-IP technology which transmits voice data over the internet instead of landlines, which will reduce costs. Lifespace has also implemented video conferencing, which reduces travel costs and enhances communication and relationships.
Also, the company is rolling out a centralized help desk, hiring a third-party vendor to help team members troubleshoot technology problems.
Lifespace vendor Touchtown installed digital screens at most Lifespace campuses to display information such as dining menus, resident birthdays and upcoming events and important community announcements.
And residents can now access that same information and more on their personal devices.
"On their iPads, residents have access to a directory of residents and will soon be able to instant message their neighbors," Couture says.
There are programs in place to help Lifespace residents who don't yet have iPads or other tablets.
Two Lifespace campuses, Village on the Green and Claridge Court, are using grants from the Lifespace Foundation to assist residents with the purchase of tablets. Currently, Village on the Green has 73 tablets in use that were funded with help from the Foundation and there are three in use at Claridge Court, says Sue McEntee, Lifespace Foundation director.
"We are sponsoring the tablets to help our residents better connect to the daily and ongoing activities at our communities," says McEntee.
As more residents become regular users of devices such as iPads, it increases their connections with family members through texts, emails and social media sites such as Facebook, Couture adds. The demand for technology in retirement communities will only increase as more members of the baby-boom generation retire, Couture says.
"We have to position ourselves to be ready for that," he says.
A 2014 Pew Research Center study found that 59 percent of seniors use the internet — a six-percentage point jump in one year, while 47 percent said they have high-speed broadband connection at home. The study found that 77 percent of older adults have a cell phone, up from 69 percent in April 2012.
Cawley, who never used a computer until after he retired from Sears Roebuck in 1980, now sees computers as integral to his daily life. When touring prospective retirement communities in Lincoln, he paid particular attention to the speed and quality of technology. Cawley was impressed with Grand Lodge at the Preserve.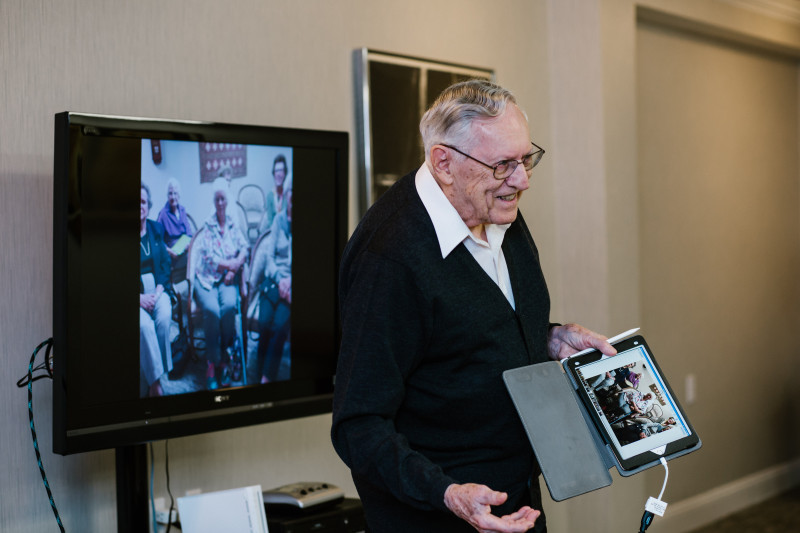 He says he remembers Dick Tracy cartoons and the character's two-way radio wristwatch. It seemed far-fetched at the time, but Cawley notes that there are now watches on the market that allow users to text, order takeout food and pay parking meters.
"I was a big fan of Buck Rogers and Flash Gordon back in those days," Cawley says. "I believe anything we can think of will happen."
<< Back to News