Big Dog and a Bigger Mission at The Waterford
September 2, 2014
Pet therapy dog touches lives at the retirement community's Health Center.
Most people have heard of pet therapy dogs, but few are like Jake. The Great Dane stands nearly 4 feet tall at the ears and weighs about 145 pounds. He's a dog with an even bigger heart. Jake is a best friend to his owner, Brian Gould, and to many residents at The Waterford, where he serves as a therapy dog in the Health Center on the campus.
Brian hopes 1-year-old Jake will follow in the paw prints of Dusty, his previous Great Dane. Dusty touched many lives and was named Top Therapy Dog in the nation several years ago. On the walls in Brian's independent living apartment hang many awards, accolades and news features about Dusty, who passed away a little over a year ago. Brian then lost his wife earlier this year. She was in the Health Center and suffered from Alzheimer's. So Jake and Brian are on a mission to serve others.
"People's eyes perk up when he strolls in," Brian says. "But they're quickly at ease when they see his kind demeanor."
Jake offers gentle and unwavering affection. He wags his tail with his heart. Some people find him easier to respond to than another person.
"Sometimes he just lifts their spirits," says Brian.
Jake and Brian are like family at home, and Jake usually sleeps on the queen bed in the guest room.
In addition to his daily training sessions, Brian maintains an active calendar, traveling with his children and grandchildren, and playing in a croquet league. But it's working with dogs like Jake, Brian says, that makes his life whole.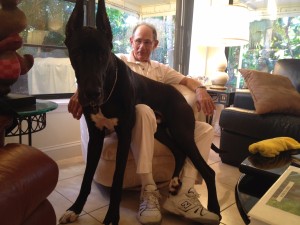 << Back to News